Artists | Catalogue | Textile fair | Video | Press release | Archive


Rijswijk Textile Biennial
The fifth Rijswijk Textile Biennial will take place from 16 May to 24 September 2017. Twenty-four international artists will be showing their fibre art. 'Well-worn' textile techniques like weaving, knitting and embroidery, combined with photography and digital processes, are used to express social and political themes, as well as personal stories. Powerful statements about oppression, terrorism, ageing and gender are wrapped in soft textiles. Art that poses questions. Questions that need not be answered right away. 'Fabric' for thought.

The Textile Biennials at Museum Rijswijk have grown into internationally renowned exhibitions in the world of fibre art. This fifth biennial is no exception. The selected artists are at the forefront in their innovative uses of fibre and textile to express powerful messages with potent imagery.
Artists
Participants Rijswijk Textile Biennial 2017
---
Catalogue
An illustrated catalogue (Dutch/English) of the work of the participating artists will accompany the 2015 Rijswijk Textile Biennial. The author of the catalogue is art historian Frank van der Ploeg.

ISBN/EAN 978-90-821807-6-3
© 2017 Museum Rijswijk & auteurs
€ 19,75
Author: Frank van der Ploeg
Translation: Dianna Beaufort
Editor: Anne Kloosterboer
Publisher: Museum Rijswijk
How to order
Please send an e-mail to the Rijswijk Museum info@museumrijswijk.nl and you will receive a invoice by e-mail (catalogue plus forwarding-charges). After your payment has been forwarded to the account of the museum, the catalogue will be send to you. Please be careful to mention your post address in your e-mail.
---
Textile fair
A large textile fair will be held on Sunday 10 September.

Below an impression of the fair in 2015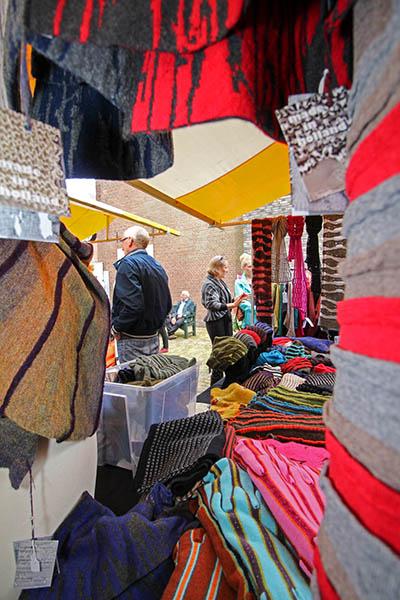 ---
Video

Hannalie Taute

Henry Hussey

Karoline H Larsen

Alice Kettle
---
Press release
Press release
Click to download press release (word)
Click on picture to dowload in Hi Resolution
Click to download captions press photos (word)
---
archive
Paper Biennial Rijswijk
Rijswijk Textile Biennial
Rijswijk Textile Biennial 2017
Rijswijk Textile Biennial 2015
Rijswijk Textile Biennial 2013
Rijswijk Textile Biennial 2011