Museum Rijswijk
Herenstraat 67
2282 BR Rijswijk
info@museumrijswijk.nl
070-3903617
Except for two cellars, the museum is completely wheelchair accessible.
Visiting hours
Tuesday to Sunday: 11 AM - 17 PM
Closed on Easter Sunday, King's Day, Christmas and New Year's Eve/Day.
Corona measures
Required: social distancing!
NOT required: masks, reservations, negative test result, proof of vaccination, proof of recovery or any other kind of Corona ticket.
Prices
You can reserve your tickets here!
| | |
| --- | --- |
| regular | €10,00 |
| >65 | €7,50 |
| student | €5,00 |
| <18 | free |
| Museumkaart | free |
| Rembrandtpas | free |
| ICOM card | free |
| group ticket | €7,50 p.p. |
| premium Biennale | €5,00 |
Continue scrolling to view our exhibitions and news!
____________________
TEXTILE BIENNIAL 2021. FOOD FOR THOUGHT
29 AUG | 16 JAN 2022
The 6th edition of the Textile Biennial is on show in Museum Rijswijk. It is the first time that the Textile Biennial has a distinct theme. The current turbulent time calls for an exhibition with socially engaged artists and an extra substantive dimension. The current topic of the Textile Biennial 2021 is Food for Thought. Twenty artists show their vision on food production and consumption. Many artists worldwide are working on the subject of food and this exhibition shows an interesting selection of them. There are four sub-themes: Abundance & Discomfort, Inquisitive & Activist, Identity, and Comfort/Punishment/Sin/Penance.
When choosing the works of art, the emphasis is on the impact of the works and the visual quality. In previous editions, the emphasis was on craftsmanship and technique that artists used to create special works of art from textiles. Textile is and will remain the binding factor in all contributions this year. Some works are deadly serious, others humorous. Many artists show an enormous social sensitivity, some make an inviting gesture towards the viewer with their work. Four artists are attending with a participation project, and ten artists are creating new work especially for this Biennial.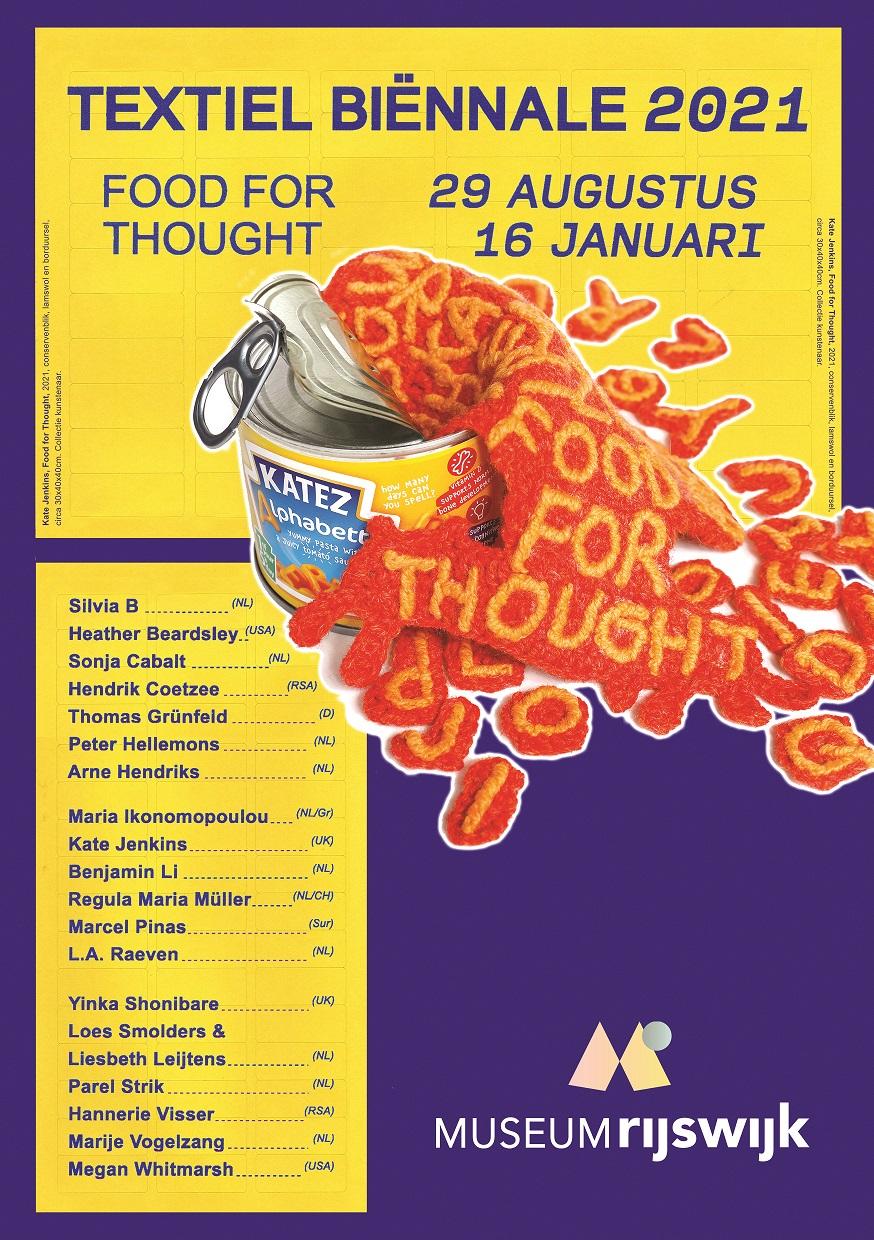 ____________________
DAily food
AUGUSTUS 29 – JANUARI 16, 2022
For centuries, a large part of the population of Rijswijk depended on agriculture for their livelihood. Daily Food is about food production and consumption at the beginning of the twentieth century.
Year after year farmers plowed, sowed and harvested. This happened on large plots that they often leased from one of the many country estates, but also on smaller pieces of land that they owned themselves. Even those not engaged in agriculture often had a small patch of land near their home where potatoes and some vegetables were grown, and perhaps a few fruit trees as well. But for everyone it was working hard and hoping for good weather every year.
The residents of the country estates had it easier. After all, much of the territory was leased. The ground closer to the country houses was taken care of by the garden staff. They also took care of the forests and the park around the house. Grapes but also tropical fruits such as pineapples were grown in greenhouses. But just like the farmers, the owners of the country estates also constantly worried about the yield of the land, because only with sufficient revenues could the country estate be maintained.
Daily Food shows the residents of Rijswijk at work in the fields and in the yard with their livestock. The exhibition also makes clear how different the 'daily food' could look like, depending on where you lived.